WE CHAT TO SEAN ADAMS, FOUNDER OF DROWNED IN SOUND, ONE OF THE ORIGINAL MUSIC BLOGS!
Sean Adams is the founder of various music websites including The Quietus, Thrash Hits, and most notably Drowned in Sound. He explains why he wanted to be involved as a curator for OTR!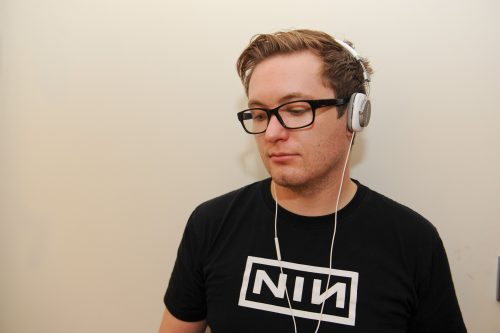 What made you want be involved as curator for OTR?
I find it hard to say no. Especially when the question is simply "can you list some bands you like?"
Manchester has recently been ranked as the 'best city in the UK for live music' – how do you think the music movement has changed in Manchester since the early 80's?
Tony Wilson has a lot to answer for. To me Manchester will also feel as though Joy Division, The Smiths and Oasis are the massive landmarks in its recent history. More recently it's felt like a hub for a lot of great DIY acts but I'm sure there was always a band like PINS around, even before the Buzzcocks. Then again, what other city in the world would produce a band as magnificent as The 1975!?
What do you think people can learn from the OTR conference?
I'm not sure to be honest. I hope they'll feel a lot more than a whimper for missing the annual In the City knees up.
What advice would you give to bands starting out in the industry?
Practice. Research. Practice. And don't be a dick. Manners cost nothing. People find petty grudges hard to forget.
What inspired you to get into the music industry?
Definitely Maybe was definitely a catalyst, and learning about Creation and then getting into The Clash and the Pistols at the tender and impressionable age of 13, discovering more about Malcolm McLaren as I grew up. Finding bands like Arab Strap then learning about the Chemikal Underground label. Then stumbling across Muse and championing their first demo to people like Lamacq, unbeknownst to me they'd actually become one of the biggest bands on earth. That was hugely inspiring and it took me 5 years to find the Kaiser Chiefs after that, and I'm not sure lightning has struck for a third time yet but I've got my umbrella up, waiting for the next juggernaut.
How important is it that new bands are recognised?
I think too many bands can get too much exposure too soon these days. And you can die of exposure.
 What is your favourite music venue in the UK?
That's a tough question. Having promoted shows by m83 and Frightened Rabbit there, I do have a soft spot for The Deaf Institute though. It has character and is the perfect size to see a band who are about to explode. Still feel like more venues could be better for sound and general experience. I'd love to see The Invisible Wind Factory in Liverpool become something that raises the tide for ambition of music venues. I really miss The Luminaire in London for a state of mind for a venue and I loved the way in which Mutek festival in Montreal used incredible surround sound and projections to turn even the dullest drone gig into a spectacle that leaves you awestruck. Then again, stick a Gaga show in Twickenham or Nine Inch Nails in any enormodome and I'm happy to sit back and lap up the spectacle of it all.